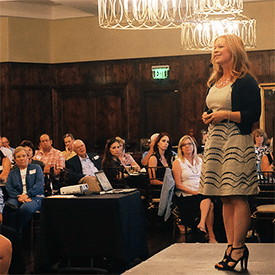 Catherine Hammond is a highly acclaimed speaker who addresses a variety of groups, including caregiver support groups, churches, businesses, professionals, retreats, conferences and senior citizen groups on the topics of:
Hope in Difficult Circumstances
Estate Planning/Legacy Wealth Planning
Staying in Control of Your Healthcare
If you want to check my availability for your event, or if you have some questions before proceeding further, please click here.
---
Here's what people have to say about my speaking:
On the topic of Hope:
"I cannot begin to tell you how amazing your speech was today. It was so moving and touching and perfectly perfect! It was the most beautiful balance of truth and inspiration and love and strength and HOPE! I am crying again just thinking about it. Congratulations – that will forever live in the memories of every person who was there." ~Sheila
On the topic of Estate Planning:
" Thank you so much! Not only are you clearly an expert in your field with passion for your material, you held my interest for over an hour and helped me understand better a confusing, critical aspect of life."
---
What You Can Expect From Catherine:
 Prompt, professional replies to your phone calls and email messages.
A thoughtful discussion on how best to tailor the content for your audience, including a personal phone consultation prior to your event, so I can better understand how I can best serve you and your audience.
An announcement about your event on my blog and social media channels, if it's open to the public and you're seeking additional visibility.
A professionally prepared, dynamically delivered presentation focused on achieving the outcomes you want for your audience.
A quick follow-up communication after the event to make sure I met your expectations. I also want to know how you think I can improve.
---
My Most Requested Topics
I speak on topics related to estate planning, care-giving and finding hope in difficult life circumstances.
I will customize my presentation to meet your organization's specific needs. My goal is to facilitate the outcome you want to create.
My most requested topics include the following:
Pursuing Hope When a Loved One is Ill:
When life brings storms hope can be hard to find. But you can experience hope, no matter what the circumstance. Alzheimer's and cancer-specific presentations will be woven with Catherine's compelling life experiences with those diseases.
Estate Planning/Legacy Wealth Planning:
Ensure the assets you've worked hard to accumulate will go to the people you want, when you want, how you want, with the least amount of hassle and expense.
Staying in Control of Your Healthcare Decisions:
If you can't communicate your own wishes due to an injury, illness or disease, who will make those decisions? Will they know what you want? Ensure your wishes will be followed, by taking some simple steps today.
I can present these as a workshop, a seminar, or as a part of a round table discussion. I also have half-day versions of some of these presentations and am happy to customize.
I am also available to participate in panel discussions on related topics.
---
The Next Step
Thanks again for considering me for your event. You can take the next step by checking my availability. Just click on the orange button below. Someone on my team will get back with you right away.