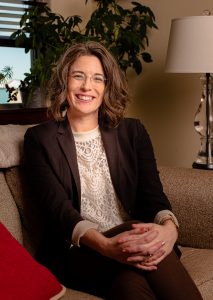 As an Estate Planning Attorney with Hammond Law Group, Jessica Showers focuses her practice on creating proactive and comprehensive estate plans for her clients. Mrs. Showers' values learning what is truly important to each individual client and their families in order to ensure their interests are protected by their estate plan.
Mrs. Showers is a native of Colorado Springs, and began her career in law shortly after high school, working as a paralegal for a local criminal defense firm. During her time as a paralegal, Mrs. Showers pursued an Associate's Degree in Applied Sciences focusing specifically in Paralegal studies, at Pikes Peak Community College. She continued her education at the University of Colorado at Colorado Springs, receiving a Bachelor's Degree in Political Science in December 2007. In 2008, Mrs. Showers attended New England's School of Law in Boston, Massachusetts.
Upon her admittance to the Colorado Bar Mrs. Showers worked in the area of family law, focusing her practice on assisting clients with family law matters including divorce, allocation of parental responsibilities, parenting time and child support modification/enforcement.  She worked closely and diligently with her clients to resolve their legal issues, allowing them to return their focus to what is most important – their family.
As a result of her desire to focus on keeping families together and harmonious Mrs. Showers changed her focus from family law to estate planning and probate matters.  Ultimately, Mrs. Showers' desire is for her client's estate plan to be thorough and comprehensive so when the plan is needed a family's focus is on celebrating their family member's life and not on untangling issues arising from the distribution of the family member's estate.
Beginning in 2016, Mrs. Showers created and began teaching continuing education courses for real estate agents/brokers.  These courses focus specifically on transferring and selling real property of an incapacitated or deceased owner.
In Jessica's free time, she enjoys curling (yes, curling), getting outdoors for a walk and spending time with her husband Ryan, and their cats Sammy and Pira.
Mrs. Showers is a member of the Colorado Bar Association, El Paso County Bar Association, WealthCounsel and ElderCounsel.