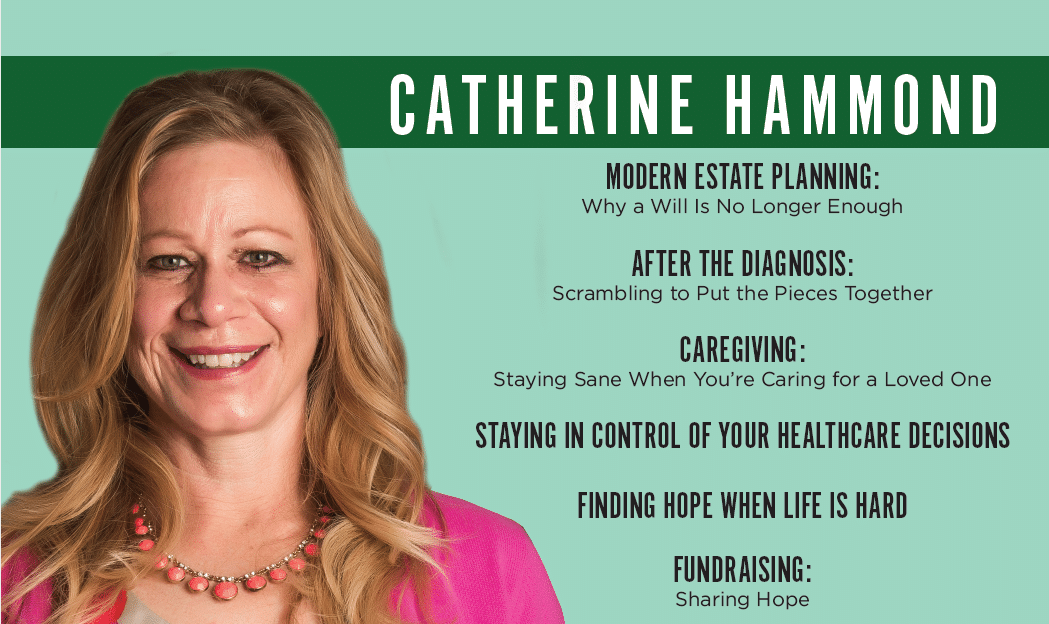 For experienced estate and elder law attorney Catherine Hammond, this business is personal. Her mother suffered from early-onset Alzheimer's when Catherine was a teenager, and the lack of appropriate legal documents had a big impact on her family.
Catherine formed Hammond Law Group in 2005 to help Coloradoans navigate the complex matters related to disability and death. Using a holistic approach and state of the art legal techniques, the Hammond Team works closely with families to create plans specific to their individual situations, goals, and concerns.
In 2017, Catherine published The Caregiver Course, a 53-video online course guiding those with a parent or spouse with dementia through planning for the emotional, legal, financial, medical, and housing issues related to caregiving.
Catherine is on the Board of Governors for the American Academy of Estate Planning Attorneys and a member of National Academy of Elder Law Attorneys. She serves on the Boards of Directors for Springs Rescue Mission,  bringing hope to those experiencing homelessness, and Heartful Caregivers, a non-profit devoted to supporting caregivers. She volunteers with the Alzheimer's Association, teaching legal and financial classes for caregivers, and was a wildly popular keynote speaker for their annual Reason to Hope fundraising luncheon.
Hammond Law Group has twice been named Best Attorney in Colorado Springs by the readers of the Independent. Catherine co-authored Planning Your Legacy, is a featured monthly guest on KRDO radio's The Extra, and has appeared on KRDO radio and TV, Fox News in Colorado Springs, and 9News in Denver.
Some of the topics Catherine can speak on include:
Modern Estate Planning: Why a Will is No Longer Enough
After the Diagnosis: Scrambling to put the pieces together
Caregiving: Staying Sane When You're Caring for a Loved One
Staying in Control of Your Healthcare Decisions
Finding Hope When Life is Hard
Fundraising: Sharing Hope
Contact us today to see if Catherine is available to speak at one of your events!