Why Choose Us
We've walked a mile in your shoes
Our founder, Catherine Hammond, experienced the difficult journey of caring for her incapacitated mother who had no legal or financial planning to guide her family. As a result, Hammond Law Group grew from Catherine's desire to help people navigate through tough times. Our firm is committed to making the best legacy planning techniques available to everyone. We have been down this road ourselves. and we will always remember what matters most. Our founder literally wrote the book on living trusts in Colorado. Actually, the book, Planning Your Legacy, was published in 2016.
We believe everyone should know their planning options
Many of our clients are a direct result of our firm's commitment to educating consumers who may not otherwise understand their planning options. Every person and every family benefits from making informed choices about planning for their future, yet we have found that even basic planning information is hard to find in a language that is easy to understand. Hammond Law Group has conducted over 400 free consumer workshops in the past ten years, investing thousands of dollars and staff hours to make this information available to everyone.
Our attorneys average nearly three times the continuing education required by the State of Colorado
We are always looking for ways to provide better estate planning and elder law services to our clients. While the law would allow our continuing education to be in ANY area of the law, we choose to focus all of our efforts exclusively in estate planning topics, taught by nationally recognized experts. We are uniquely positioned to apply the most effective, most current, and well-designed strategies available to your personal planning needs.
Our firm offers a free 60-minute planning session – no obligation!
We believe in spending time getting to know you and your planning concerns. Our free session allows you to get answers to your questions, as well as recommendations concerning your unique planning options. We will clearly outline the costs associated with each option so that you can make informed decisions about your family's future. We believe our job is to educate you, not to sell you some legal papers.
We offer a 100% money back satisfaction guarantee for all estate planning services
Your plan should be built around your unique desires and concerns. Beginning with our very first meeting, we focus our attention on you. In doing so, we earn your trust by creating a plan that preserves and protects your personal legacy. We measure our success by your complete satisfaction.
Satisfaction Guarantee: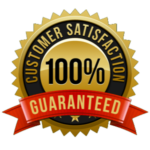 Since our firm's founding in 2005, we have offered a 100% satisfaction guarantee. If for some reason we are unable to exceed your expectations, just let us know. We'd love to make it right or refund your fees.