[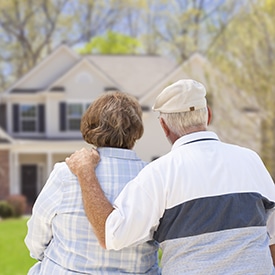 A survey from AARP revealed that about 90% of seniors say they would like to stay in their own homes as they age. As the baby boomer generation begins joining the ranks of senior citizens at a rate of 10,000 per day, architects, home designers, and interior designers have begun paying attention to the changing needs of this growing sector of the population.
Many designers are focusing on the concept of universal design. Universal design is the idea of designing homes and environments suitable for the needs of people of all ages. It incorporates the bathroom fixtures often found in public restrooms built in compliance with the Americans with Disabilities Act (ADA) but also takes into consideration households where multiple generations of the same family live.
Universal design principles also focus on preventing injuries and giving residents a range of individual choices so that the home feels personalized. Such personal touches are often lacking from many elder care facilities, making them feel very hospital-like or clinical in their appearance and function.
Universal design builders also incorporate features that allow seniors to remain as active as possible, all while giving them enough support so they may independently. As many boomers transition out of their own homes and begin living with their children, more and more homes are adopting these universal design themes to allow seniors to stay independent.
Looking Ahead
If you are searching for a home, be sure to communicate with your realtor that you want a universally designed home.  It will, unfortunately, narrow the market for you significantly, but you may find that it will be worth it.  Purchasing a universally designed home takes a little more planning and searching when shopping for a new a home.  If you think you may be taking care of a loved one as they age, you may want to consider putting universal designs in place at your current dwelling.
Communicating With Your Family
If you are part of that 90%, and you would like to stay in your home as you age, it's important to communicate that fact to your loved ones.  Would you want to stay in your own home, or would you like to stay with your loved ones?  Do you want to purchase a new home that can accommodate you as you age?  The answers to these questions are all important to communicate to your loved ones.  Having this knowledge in place can help you or your loved ones prepare your house with universal designs, or it will put finding a new home on your radar if that's what's needed to make accommodations.
Long-Term Care Planning Workshop
Putting plans in place for when you and your loved ones age makes thing much easier when the time comes.  These plans could be setting up universal designs for your home or setting up Long-Term Care insurance.  Learn more about plans to put in place with Long-Term Care Planning by attending our expert panel discussion on planning strategies for the long-term care issues facing seniors and their families today.  Maybe you are already are a caregiver for a loved one, and the planning stages for this period has passed, this workshop will still be beneficial for you!  We will have Kent Matthews speaking about resources for caregivers and those who need care, along with many other experts, so register for this workshop today!