For younger generations, the name Buzz brings to mind the courageous but occasionally impulsive character from Toy Story, Buzz Lightyear. Some of us, however, remember Buzz as Buzz Aldrin, born Edwin Eugene Aldrin Jr., the lunar module pilot of Apollo 11 mission who joined Neil Armstrong on the first moonwalk July 21, 1969.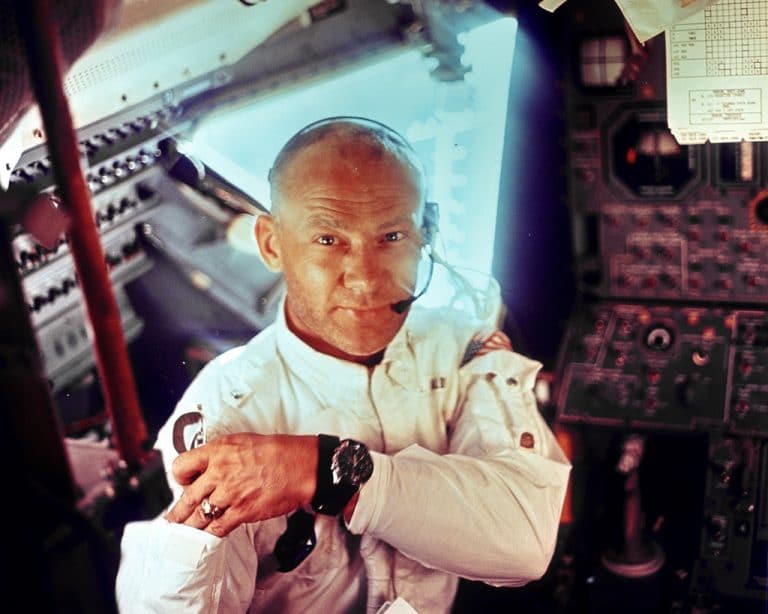 A graduate of West Point with a degree in mechanical engineering, he was commissioned into the U.S. Air Force and flew as a jet fighter pilot during the Korean War. He also earned a Sc.D. degree in astronautics from MIT, thus becoming the first astronaut with a doctoral degree. Those are just the highlights of his career through 1969. It's undisputed that thirty years later, at age 89, Buzz is a brilliant, educated, and accomplished man who has contributed much to both space exploration and our great nation.
Buzz builds an empire
In the years after his lunar landing, Buzz went on to build an empire, much of it done with his third wife Lois during their marriage from 1988 to 2012. She made herself a sort of publicist for Buzz. Lois declared, "The business is Buzz!" and brought in millions from endorsement deals with companies like Nike, Apple, and Tommy Hilfiger. She booked him for countless speeches around the world, and he appeared in numerous cameo and guest appearances on television. While he did not receive endorsement fees for the name Buzz used by Buzz Lightyear in Toy Story, he's made it a nearly superhero mission to promote space exploration. Buzz has written almost a dozen books. Needless to say, he has spent his lifetime working hard and creating his estate.
Love you to the moon and back—but I don't agree with you
Despite such a full life of accomplishment and passion for space exploration, recent memory knows Buzz as being entangled in a dispute and legal battle with his two youngest children, Andrew and Janice Aldrin, as well as his longtime business manager and close friend, Christina Korp.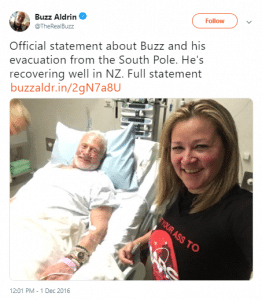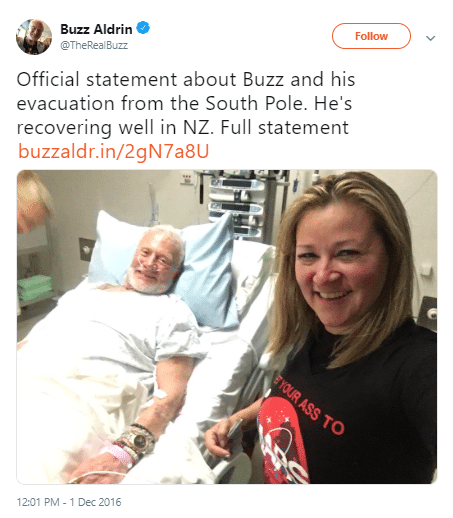 The issue concerns Buzz's assets, which are currently held in a Revocable Trust established in October 2016, six months after his book No Dream Is Too High: Life Lessons From a Man Who Walked on the Moon was published. "It means a great deal to me that Andy has chosen to carry on my work," Buzz wrote in that memoir. "Although I am proud of all my children, Andy is more similar to me, in that he is always up for almost anything I'm willing to try." His son Andrew is named as Trustee.
Any Trust design should meet the client's goals and wishes
Revocable Trusts, just like the name implies, allow the Trustor to revoke or change responsibilities of a Trustee. In the Trust created by Buzz, however, Buzz provided that written permission from Andrew must be given before any changes to the Trust can be made.
This is where conscientious guidance from an expert estate planner comes into play. Estate planning attorneys have a fiduciary duty to keep the estate assets safe. Specific fiduciary obligations include carrying out the wishes and goals of the client and protecting the rights of the beneficiaries. In this case, Buzz is the client and the beneficiary. One can reasonably surmise that the provision for Andrew's consent for changes to be made to the Trust was made to meet Buzz's original goals for his own Trust, to help protect the Trust's assets, and to protect Buzz's rights.
Andrew and Janice petition for co-guardianship of their father Buzz Aldrin
This is where things start to get heartbreaking. Something has either drastically changed since the Trust's inception in 2016, or not much has changed at all. Andrew and Janice say Buzz has dementia and suffers from memory loss, confusion, paranoia, and delusions. As a result, Andrew and Janice filed a petition with the Court requesting to be named co-guardians for their father.
Buzz denies any competency issues. In fact, he told Good Morning America in 2018, "I'm feeling younger and more energetic really than I have ever been in my life. There is less confusion and more clarity." The fact that he mentions LESS confusion raises the red flag that perhaps there have been periods of MORE confusion for him.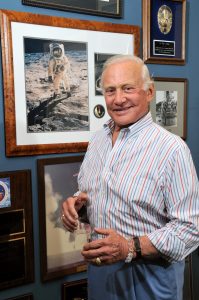 Buzz files suit against his two youngest children and former manager Korp
Not only has Buzz denied competency issues, but he has filed a lawsuit against Andrew, Janice, and his former friend  and manager Christina Korp. He alleges they have mismanaged his funds and exploited him. He also claims that Andrew, Janice and Krop have "forbidden" him from marrying and have "specifically and deliberately undermined, bullied, and defamed all of his personal romantic relationships." He maintains they have slandered him with talk of his cognitive decline, which they deny.
The plot thickens when Korp's perspective comes into view. She mentions a new set of managers inside a company called Buzz Aldrin Ventures formed in April 2018. The registered agent for this company is Buzz's longtime friend Robert Tourtelot, a lawyer. Korp said in 2018: "Almost a year ago, some people began to exert undue influence on Buzz. These individuals began to actively try to drive a wedge between Buzz and his children, and me, for what I fear is their own benefit."
Waiting on outcome of mental competency in the guardianship action effectively freezes assets
Fast forward to 2019. The lawsuit Buzz filed against his children and Korp is still in Court. The outcome of his lawsuit cannot be decided until his mental competency is addressed in the guardianship action filed by his two children.
In the meantime it's been reported, Buzz is trying to get his Revocable Trust terminated and the assets distributed to him. Andrew is refusing, on grounds of his father's alleged mental incapacity under the pending guardianship action.
In January 2019, Andrew sent a strongly worded letter to Morgan Stanley not to transfer assets out of his father's Trust, and he will seek damages as Trustee if his instructions are not heeded. Stern language included: "Please govern yourself accordingly." Morgan Stanley is wisely waiting for outcome of court proceedings. The firm's court filing states: "Morgan Stanley cannot pay out or distribute the proceeds of the accounts without incurring conflicting claims to such proceeds by the parties in the instant action, including but not limited to Buzz Aldrin and Andrew Aldrin,"
Attorney Jessica Showers comments on the matter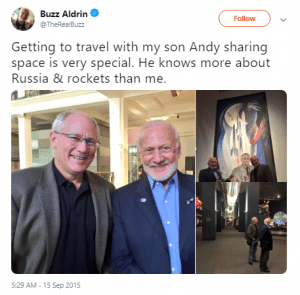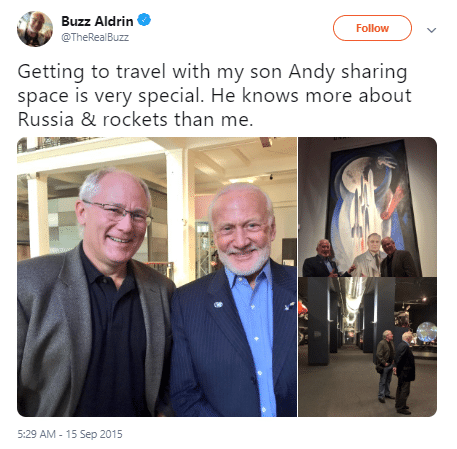 Hammond Law Group attorney Jessica Showers researched the case. "The thing that stands out to me in this situation is the history of Buzz's relationship with his kids," she said. "It appears that there have been many ups and downs. Buzz praised his children [in his memoir, No Dream Is Too High: Life Lessons From a Man Who Walked on the Moon, released April 5, 2016] yet there have also been periods of estrangement. I can't imagine that this is not also influencing the situation.
"Based on the information that has been made public, there is nothing that points to a flaw in the way the Trust was set up, or there being missing legal planning documents that were never created. The matter appears to be an unfortunate case of family disagreement. The issue is family members concerned about a loved one and whether he is able to make decisions for himself, as well as the issue that he is being influenced by outside persons. What makes this case remarkable is not the family disagreement side of things, it's Buzz himself. He's done incredible things all his lifetime and he's being faced with the reality that he may not be able to do what he once did. This man literally walked on the moon. Let that sink in. You can imagine why he's fighting being declared incapacitated and in need of a court-appointed guardian."
Trusts are designed to serve the Trustor's needs, goals, and wishes and protect assets
In essence, it can be viewed as a good thing that the Trust created a checks and balance system for Buzz. Though a legal battle can be costly and time consuming, it ultimately ensures that the handling of Buzz's affairs will be subject to legal scrutiny for his protection.
Attorney Showers brings up a profound point, "What I can say is this: can you imagine what it would look like if there had been nothing in place? What if he had not set up his foundation and the Revocable Trust the way he did?"
Considering Andrew and Jan's concerns of their father's health and that he is being influenced by a new management team, it's possible that without the protection of the Revocable Living Trust, there would be no more assets to fight over.
We're here to help
Do you have concerns about your estate plan after reading this article? Please don't hesitate to call us. We never charge for client calls. Not part of the Hammond Law Group client family? We'd love to have you join us at one of our next Estate Planning Workshops, which are free of charge. View the upcoming workshops here and register.