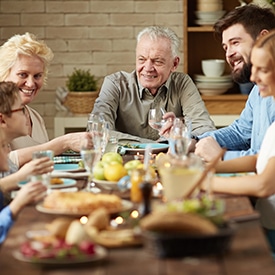 Let's face it, estate planning is not anyone's favorite topic of conversation, but it's certainly a necessary one.  How do you get started in having a family conversation about wills, estate plans, durable powers of attorney and more?
Avoid Roadblocks to Communication
As an estate planning attorney, some common roadblocks to family members discussing estate planning are fear, denial and the lack of good information.   The holidays are a time when your loved ones come together, so make sure to take advantage of that time and talk about your estate planning decisions. The following are some tips to get the conversation started on this important topic:
Start the Conversation Early
Avoiding estate planning only leads to deeper problems.  Even modest estates need an estate plan, and it's not simply about which family member gets which piece of property, but should also include discussion about elder health care options. It is  important to have the conversation before a family member's need is imminent and before a sudden decision about elder care is necessary.
Families that also use this time to communicate and build relationships by sharing values and stories will benefit the most, both now and in the future. Ideally, parents should begin the conversation when their children are young adults to open the door for future discussions.
Find Common Ground
Parents of adult children can mitigate future family squabbles now by making sure to acknowledge and appreciate each of their children.  Even adult children continue to need their parent's approval and it lays the groundwork to find common ground within the family.   You may find that creating an estate plan for the distribution of assets may build not only cohesion, but a bond within the family.
Communication is the key. Start the conversation now to avoid future problems, and keep the conversation going over time—parents to children, sibling to sibling and even generation to generation.  One great resource that gives ideas about talking about end of life decision is The Conversation Project.  The Conversation Project is dedicated to helping people talk about their wishes for end-of-life care, and there are many inspirational stories as well as idea to help you get the conversation started with your loved ones.  Another great resource to keeping the lines of communication open is working with an estate planning attorney who can facilitate the communication, as well as identify the specific tools that can meet your family's specific needs and goals.
For more information about estate planning, attend one of our Estate Planning workshops.  Check out our workshop page to see a list of our upcoming events.