Traits Your Health Care Agent Should Have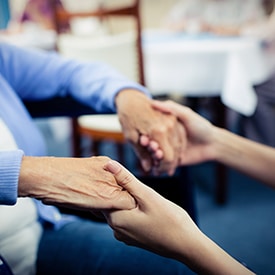 When you create an advance medical directive where you name a health care agent, it's a good idea to take the time to consider the kinds of qualities you want your agent to possess. While most people creating advance medical directives choose their spouses or close family members to serve as their agents they are not the only option.  Agents will be asked to make difficult decisions regarding medical treatment and if your close family members don't have the requisite attributes, you may need to look elsewhere.
Decision-Making Ability
Your agent will only make medical decisions for you should you lose the ability to make your own choices. Perhaps you've been severely injured or are suffering from a significant, perhaps terminal, illness. Your agent will consider the advice from your doctors and make a decision based on your written wishes.  In the event you have not written out your wishes, your agent will make a decision based on what they believe to be in your best interest. This requires your agent to be able to make difficult medical decisions in a very stressful situation.
Assertiveness
Your agent must be able to make a decision without being swayed by family members and other loved ones.  Where a family member is incapacitated, and facing medical issues close family members are highly emotional. Though your family wants   what is best for you, their decisions may not be the same as yours.  Your agent is your advocate.  If your agent believes that an otherwise unpopular choice is what would be in your best interest, your agent must be able to make that decision even in the face of disagreement.
Who May Not Serve Your Healthcare Agent
In general, to prevent potential conflicts of interest, medical treatment providers do not serve as healthcare agents.  This means that your healthcare agent can't be your treating doctor or anyone on the doctor's staff.  Additionally, in general the owner/operator, employees of the medical facility, nursing home, or hospice where you're being treated are unlikely to agree to serve as your healthcare agent.  Your agent has the authority to discuss your medical treatment and prognosis with the appropriate treatment providers.  However, the ultimate decision of what medical treatment is to be administered falls solely to your healthcare agent.
Professional Organizations as Healthcare Agent
For a number of clients it may be that their spouse passed away or they have no other close family members to name as a healthcare agent.   It may be that they don't feel confident that their family members will follow their wishes.  And in some cases, a client may simply not want to burden their loved ones with such difficult decisions.
In those cases who is named?   There are professional companies you can hire in advance to be your healthcare agent.   These companies meet with you and generally ask extensive questions to ensure they have a clear understanding of your medical wishes.  When the time comes for those decisions to be made, they are called upon, and the family can be spared from making daunting medical decisions.
More Questions?
If you have more questions about traits that you should consider for your health care agent, please contact our office today.