"Before I Die" Boards Encourage Community to Think About Life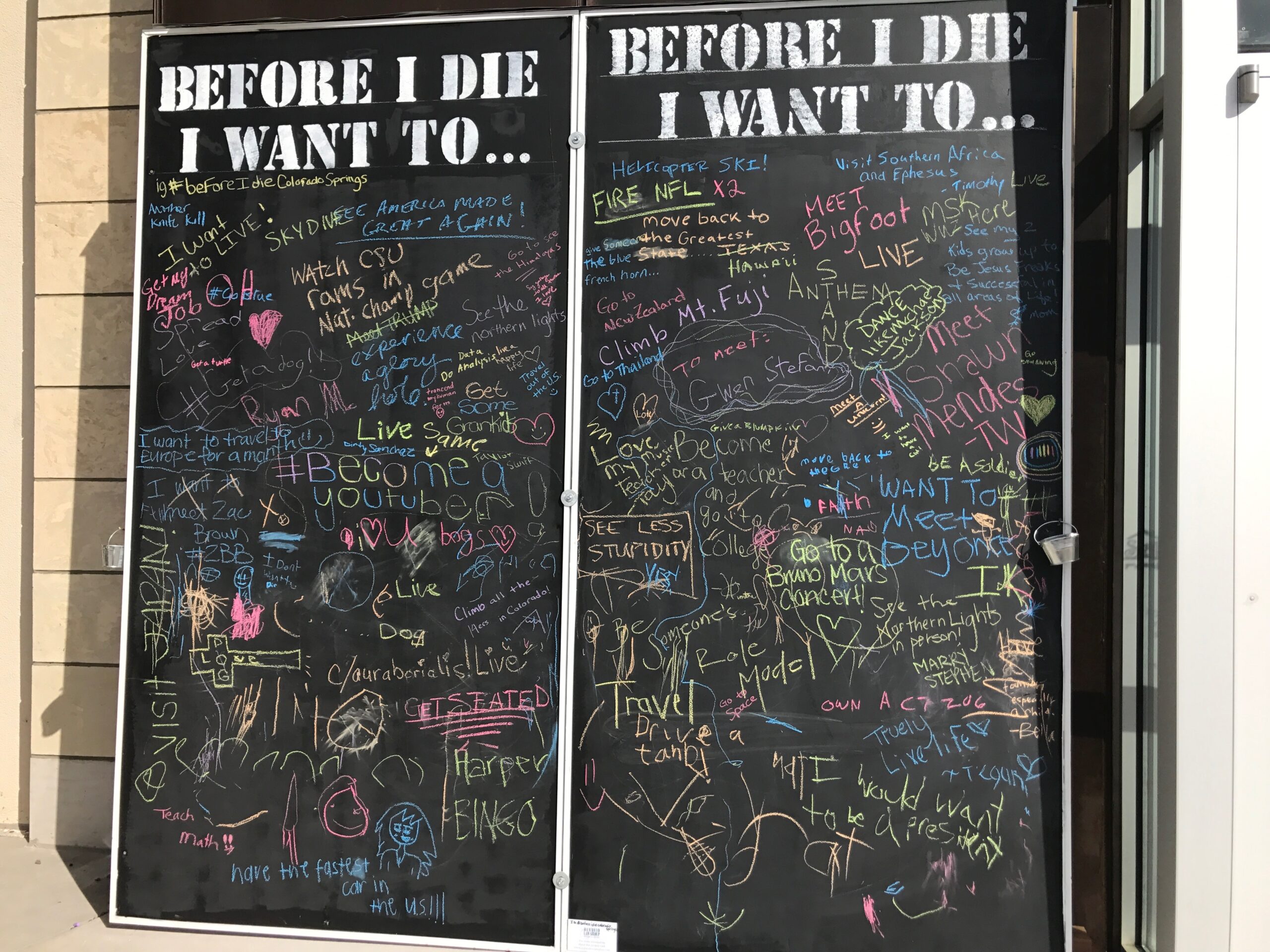 A number of thought-provoking blackboards have appeared around Colorado in the past few months. Written in bold letters across the top is the phrase, "Before I Die I Want To…". It is the job of passersby to complete the thought.
The boards are part of the Before I Die project that helps people reflect on their lives. They are a small part of a larger movement that is happening in communities across the nation, where there is a surge in people expressing the values of life. Some examples that are fresh in the minds of Coloradoans include student demonstration for new gun laws because school gun violence has become too commonplace and students actually fear for their lives.
In addition, the debate over immigration and the "dreamers" deadlock is causing us to think about life, our values, and our world in a uniquely human way.
The Before I Die project came to Colorado in 2017 by way of the Hammond Law Group. Catherine Hammond has spent her entire adult life shepherding families through difficult life transitions, especially when dealing with the death or disability of a loved one. Faced with the difficult and volatile climate, she felt like a positive perspective was needed, and wondered what would happen if people changed their perspective and – rather than argue over political debates – contemplated the value of life, as well as the meaning we bring to it.
The boards are temporary installations that only stay up for a few months and have shown up in Denver and Colorado Springs. They are created and set up by employees Hammond Law Group, and then left for passersby to contemplate and leave reflective notes about the meaning of life.
"We wanted to encourage people just passing by to stop and think, and then write their own aspirations on the boards," said Catherine Hammond, attorney and founder of the Hammond Law Group. "Our goal was not to make people focus on death, but to focus on life. At our office, we help people prepare their estates so there is an easy transition for their heirs. This means people have to think about their mortality, which is not always easy to do. However, we try to make this conversation as easy as possible, which is what we wanted to accomplish with these boards. We hoped to inspire people to reflect on their lives and what they want for their future, so they could come together as a community to live lives of meaning. These boards are a celebration of life's many achievements and life itself."
Being prompted write their thoughts on a blackboard, however, gives people an opportunity to express their hopes and wishes on a more personal level.
The boards are up in Denver now and will be all week, as Colorado once again becomes the center of a media circus around gun debate and people dying too young. The hope is that the conversation will shift from fears about death and guns to a healthier respect for the meaning of life and honoring each person's unique journey. 
Before I Die is a global participatory public art project that was originally created on an abandoned house in New Orleans by artist Candy Chang after the death of someone she loved. Since then, over two thousand Before I Die walls have been created in over 70 countries around the world. Each wall is created by local residents who want to make a space in their community to restore perspective and share with one another.
Comments left on the walls set up by the Hammond Law Group range from profound to personal. Examples include, "Change lives, save souls, raise my son, marry Jen!"; "Run one more marathon"; "Meet Kanye West"; "Grow old with my wife and watch my girls live their lives", and "Repeat last night". In a local Colorado Springs coffee shop, even business people too busy to write on the walls before work in the morning have been frequently overheard asking each other what they want to do before they die.
Although there are some less than profound comments left on the walls, even some comments made from a place of pain, according to Hammond, that's actually part of what makes the walls special.
"We're not here to censor people's thoughts," said Hammond. "These boards are up for people to express how they feel about the meaning of life. The fact that the vast majority of the comments left on the boards have been so thoughtful and expressive makes the project worthwhile. It's similar to the student walkouts that happened on April 20. Whether you agree with these students or not, you have to appreciate that they are expressing an opinion about the value of life in a civil and thoughtful manner. And things may not get better until we all take the time to witness each other's unique feelings and experiences. That's what these walls allow us to do, to see each other and connect to each other's humanity."
Past locations in Colorado Springs for the Before I Die walls include the Plaza of the Rockies, The Perk Downtown, Salsa Brava's Briargate, Salsa Brava/Over Easy on Dublin Blvd, with Denver locations arriving soon.
The Hammond Law Group helps minimize the legal and practical headaches and heartaches that accompany death and disability. To discover more visit their "Get Educated" page.